Illinois Congressman Danny Davis visited Peanut Butter to learn about our efforts to help employers offer Student Loan Assistance.
Peanut Butter CEO David Aronson led off our event by introducing how Peanut Butter is helping leading employers across the country offer Student Loan Assistance as a benefit.  "Peanut Butter seamlessly administers a win-win solution for employees with student debt and their employers."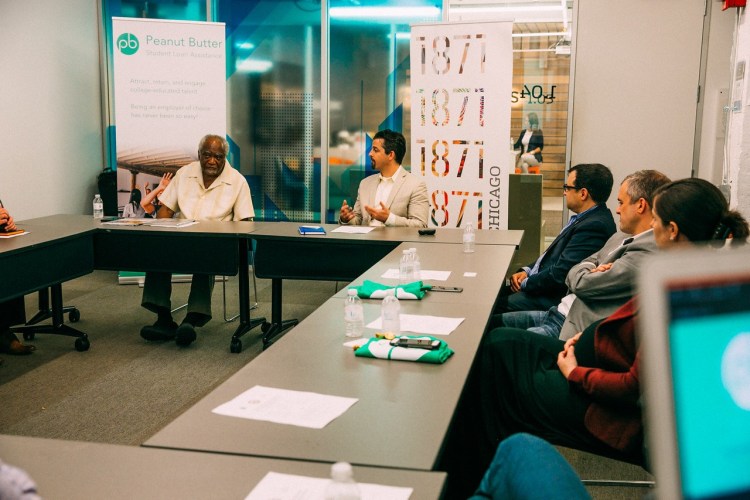 left to right: Rep. Danny Davis IL-7, David Aronson of Peanut Butter,
What does student debt mean to young workers?
51 percent of student debt holders say student debt is ruining their quality of life, according to a 2016 Aon Hewitt survey.  College-educated workers joined our discussion to share their perspectives about student debt and their experiences with Peanut Butter's product.  Julie Honor of Rise Interactive said, "Student debt has had a major impact on my life, and feels like weighty handcuffs that I'm constantly reminded of every time I think about making a purchase." Jihan Bibb of 1871 agreed and noted that in her experience, "student debt is holding back a lot of younger workers she knows who might otherwise be better positioned to start their own business."
Emily Sloan said that she loves that her employer offers student debt assistance because "it is such a painless and easy way to fast track paying my student debts."  She continued, "I am very happy to work at a company like Medix that offers a benefit that makes a significantly positive impact on my life."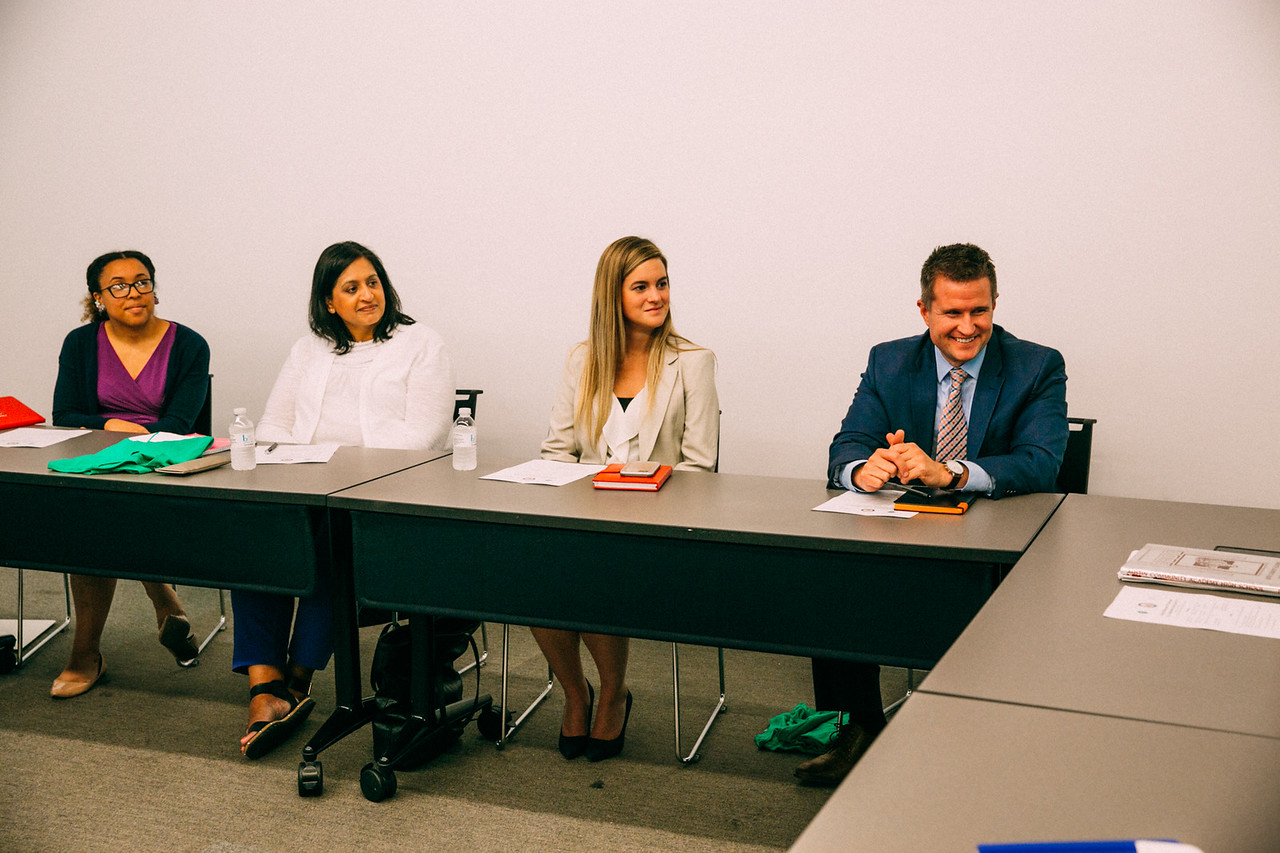 left to right: Jihan Bibb of 1871, Varsha Vig of Outcome Health, Emily Sloan of Medix and Mike Ceretto of Medix
How Has Student Loan Assistance Helped Your Business?
A survey conducted by Beyond.com, found that 67 percent of job candidates are "absolutely" more willing to accept an offer that includes student debt assistance.  Rise Interactive's COO Scott Conine agreed and said that "the job market for young college educated workers is tight, and we are finding that offering Student Loan Assistance gives us a competitive advantage in recruiting talent."  Mike Ceretto, Medix's VP of People and Performance noted that, "employees taking advantage of our company's Student Loan Assistance program are very pleased with the benefit. It has helped us decrease turnover, attract better talent and most importantly positively impact our team member's lives."
Congress Can Help Workers Struggling with Student Debt
"While leading employers are not waiting to give themselves a competitive advantage engaging college-educated talent, many more people would gain access to Student Loan Assistance if Congress aligned the tax code allowing employers to make pre-tax contributions," said David Aronson.
Four bills have been introduced in the House of Representatives with over 100 bi-partisan co-sponsors.  Peanut Butter has been instrumental in building support for two of these bills earlier this year and participated Congressional announcements for The Employer Participation in Student Assistance Act and the HELP for Students and Parents Act. 
While we continue to support both of these bills, we are also championing a novel proposal that addresses concerns we heard from some Congressional leaders.  The latest proposal would amend the IRS Code to allow employers' matching 401(K) contributions to be applied to the employee's qualified student debt obligations. 
Peanut Butter's Aronson highlighted the advantages of this approach, "by incorporating the change in Section 401(k) of the IRS Code, we take advantage of three decades of income-equity protections to ensure that the benefit accrues to workers of all income levels, not just the highest earners."  He continued, "unlike some of the other proposals, our concept would not add to the federal budget deficit."
Other advantages include:
More student debt holders will save for retirement to access the 'free money' student debt matches from their employers,
Would enable employers to offer an additional benefit with no additional cost of friction,
Workers with student debt would pay less taxes earlier in their career when they are least able to afford them,
Encourages workers to develop the habit of saving.
Congressman Davis Reiterates His Support for Addressing Student Debt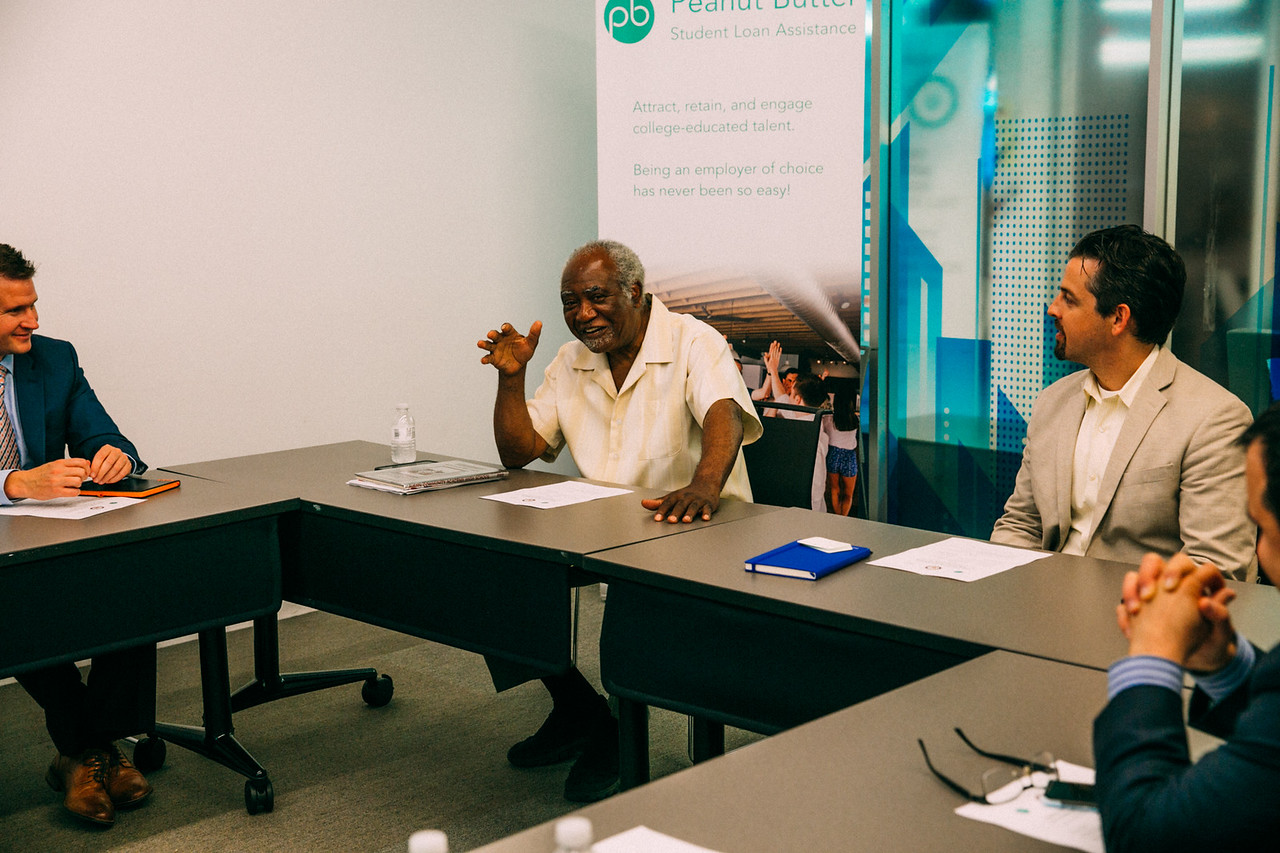 Our event concluded with Congressman Davis sharing his concerns about how student debts are holding back too many young workers, particularly those coming from lower income backgrounds.  "We have a lot to do to make college more affordable so that everyone can have a chance to get a high-quality education or training," he said. "I am interested in hearing about anything we can do for those people struggling with student debt, and I will analyze and consider your proposal with great interest."
We are delighted by Congressman Davis' interest in student debt because he is an effective Congressman who sits on the powerful House Ways and Means Committee that has jurisdiction over any change to the IRS Code. 
David Aronson concluded the event by noting that "with Congressman Davis, Peanut Butter, and local employers working together, Illinois has the potential to be the epicenter for solving our Nation's $1.4 Trillion student debt crisis."
Click here if you would like to learn how your company can work with Peanut Butter to offer Student Loan Assistance.