Founder and CEO Dave Aronson was up bright and early to be featured on WGN Radio's The Opening Bell through their CEO Spotlight segment. Dave sat down with host Steve Grzanich to discuss how big the student debt problem is, how employers are in a unique position to help solve it and how Peanut Butter is leading the charge to enable employers to do just that.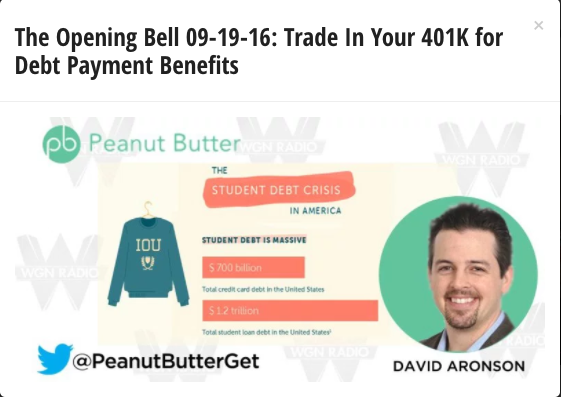 Steve: How is student debt impacting companies?
Dave: For many employers, student loans represent an opportunity. It's an opportunity to create employee engagement that they are not getting through their other benefits. Traditional employers use benefits to help ensure tenure and get employees to join them… two thirds of people in their 20's are not participating in employer 401(k) programs and are not enrolling in their employer medical plans… helping them get out of student debt is much more impactful to their lives.
This is just a snippet of Dave's interview. Be sure to check out the whole thing on The Opening Bell CEO spotlight (jump to minute 3:35)
LISTEN TO INTERVIEW (starts at minute 3:25)