In the month of May America's student loan debt surpassed $1.5 trillion. With a statistic so staggering, it's no wonder people are noticing, especially companies who realize many of their employees are among the 44 million affected by it. 1871's Yun Tai stopped by to chat with Peanut Butter's CEO, Dave Aronson, to chat about the current state of this crisis.
Today's work culture is dominated by lavish perks like kegerators and yoga classes, but
Peanut Butter
, is providing employers with a new offering that may be the best benefit yet — the ability to pay off their employees' student loans.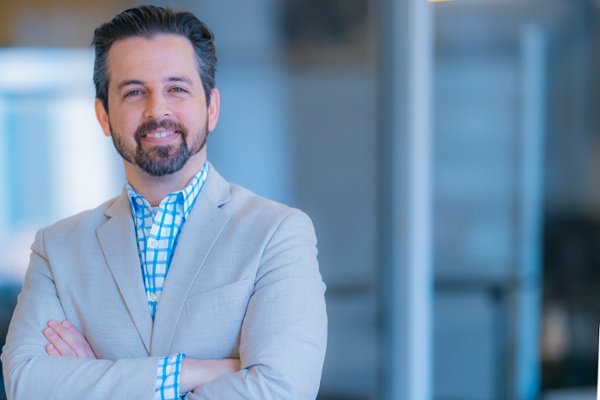 In 2004, student loan debt cost Americans a whopping $260 billion. Since then, president after president promised to fix the problem or, at the very least, mitigate the deficit.
Last year, student loan debt rose to $1.4 trillion.
For prospective students, this growing price tag presents an incredible burden; fortunately, one Chicago-based company might be able to solve the problem that our nation's leaders have struggled with for years.
Meet David Aronson, CEO of Peanut Butter, which makes it easy for companies to help employees get out from under student debt.
"In the past decade, student debt has outpaced disposable income five times. What you're also seeing is that many companies are struggling to attract and retain talent — and when employees leave, organizations end up spending so much more on recruitment, training, and replacement costs."
Aronson and his team (now 10 strong) knew that most of the office perks offered by employers just weren't cutting it; after all, mini-bars, ping pong tables and workplace lotteries didn't seem like much fun for employees who had a mountain of debt weighing over their heads.
"Today, college educated workers tell us that paying off their loans is more meaningful than graduating college. But they're on their own. When companies help them do that — it becomes a shared achievement."
It makes sense, especially since nearly 70 percent of all students who graduate from college do so with student debt. That's a huge pool of potential employees and when you consider that the average amount of debt for a graduate is $37,000, it's no surprise that so many members of today's workforce are focused on paying off their loans.
"One client told us that their recruiter called a campus hire who hadn't committed to a job. Once they told her that he would be receiving student loan assistance as a benefit, she immediately accepted the offer. We had another client whose Head of People told us that they had virtually no turnover since they started their student loan assistance program."
Like many founders, Aronson built his company to solve a problem he had struggled with himself — in fact, he named his company Peanut Butter because it was the only thing he could afford to eat when he was in college. Early in his career, Aronson worked in human resources outsourcing, then after earning a Kellogg MBA, was an intrapreneur, building three businesses within a larger company, but he credits his entrepreneurial chops to a more unlikely source.
"I worked at the Tasty Bakery, my family's bakery in Naperville, from age 14 to 24. I did every job and had to do each one well because you learn young that no one will work harder than the SOB (son of the boss). I learned how to help customers, to lead people, to manufacture and market products, and to think as a business owner. Today, I continue to rely on my experience from the bakery."
As a baker and a business builder, Aronson has always valued learning in a structured way and through and with the camaraderie of his peers. That's what attracted him to 1871's Advanced Member Program, or AMP for short. The sixth-month cohort program helps later-stage companies scale by providing additional resources, mentorship, stage-specific workshops, and more.
Aronson says that the connections he's made through AMP have been one of the program's most rewarding aspects.
"One person who I find inspiring is Heather Holmes, CEO of Genivity. She's proactive, diligent, hard-working, and she and her team are building a great business. Getting to know and learn from Heather and the rest of the AMP cohort has been one of the best parts of the program."
And although Aronson has learned many valuable lessons through AMP and his professional experience, he says there's one business philosophy that's always stood out to him.
"Give people what they want."
Similar to his business principle, Aronson reminds companies that 44M of the most talented people in today's workforce want to be free of student debt.
By adding Peanut Butter to your company's benefit offering, you can give employees what they want, and in turn, you'll attract and retain the people that your company needs.