Diversity in the workplace continues to be an important topic to HR professionals and business leaders. Employers offering student loan benefits are uniquely positioned to attract more diverse talent, while also differentiating from competition for a hiring advantage.
Diversity drives company revenue
Recent McKinsey research shows an undeniable link between company diversity and financial performance: Gender-diverse companies are 21 percent more likely to financially outperform, and ethnically diverse companies are 33 percent more likely to surpass their less-diverse counterparts in financial performance.
It makes sense, then, that companies should include diversity initiatives as part of their investment and leadership priorities. This is not a small undertaking, however, so while most workplaces have an initiative to improve their diversity, only 25 percent of U.S. talent professionals say their company has taken active efforts in the last year to increase gender diversity in leadership, according to LinkedIn's 2019 Global Talent Trends Report.
Lack of diversity hurts hiring potential
What's more, for HR professionals attempting to hire in today's competitive, low-unemployment-rate environment, lack of diversity can be a detractor to potential candidates. Glassdoor reported that nearly three in five (59 percent) hiring decision-makers say a lack of investment in diversity and inclusion is a barrier or challenge their organization faces in attracting and hiring quality candidates. This same report found that one-third (35 percent) of hiring decision makers expected to increase investment in diversity and inclusion programs to help.
Groups that are often underrepresented hold more student debt
One effective way to tackle these challenges is by offering an employer-sponsored Student Loan Assistance program. Student debt disproportionately affects women and minorities. The Federal Reserve reports:
Two-thirds of student debt is held by women
African Americans and Hispanics are twice as likely to hold student debt
All three groups take longer to repay student loans and are more likely to default
Payment status of student loans acquired for own education (by age and race)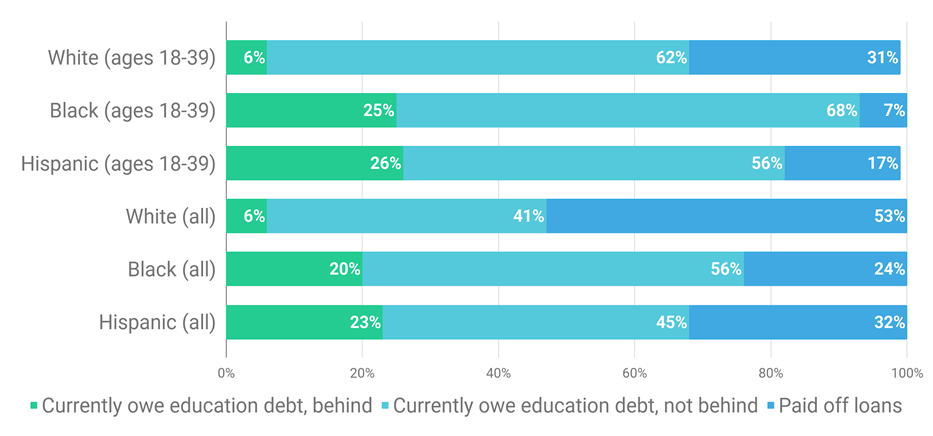 Source: www.federalreserve.gov
Average student loan debt as a percentage of first-year income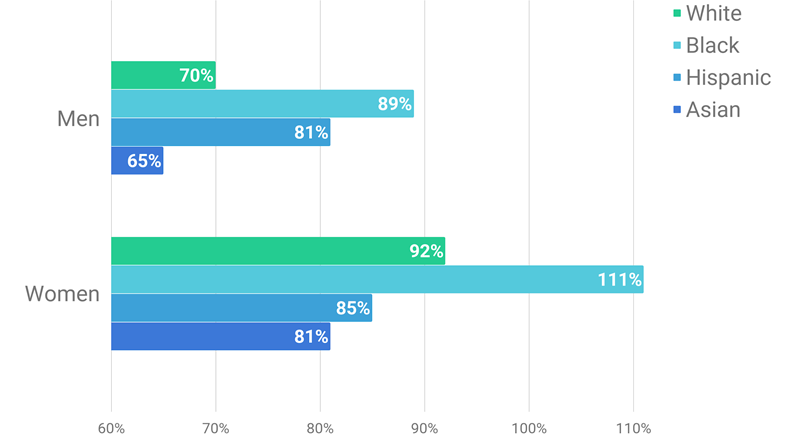 Source: www.valuepenguin.com
Student loan assistance helps companies hire diverse talent faster and retain them longer
By offering Student Loan Assistance as an employer-sponsored benefit, companies can:
Appeal to and engage with more diverse talent during the hiring process
Differentiate their company in a competitive hiring environment
Help eliminate the wealth gap experienced by women and minorities
Retain existing employees longer, reducing turnover
Employers can elect to offer a Student Loan Resources program, which provides curated advice and refinancing options for employees to manage their student debt more effectively themselves. Or, for maximum impact, employers can offer student loan repayment as a benefit, where the employer makes a monthly contribution to the employees' student loan principal and interest.
Is your company striving for a more diverse workplace? Don't ignore the impact of student loan assistance benefits. Schedule a time to speak with a member of our Client Solutions team about how Peanut Butter can support your organization's diversity talent goals.
---
Peanut Butter recognizes that diversity, hiring and retention challenges may not be solved by implementing student loan assistance alone. For a company-specific culture assessment of your organization, our partner, Holistic, is uniquely positioned to help. As Tom Alexander, Co-founder and CEO of Holistic explains, "At Holistic, we work with companies to gather and analyze data and take a data-driven approach to assessing a company's environment, values, policies, benefits, hiring, diversity, employee satisfaction, and leadership — the entire employee experience. This gives organizations a benchmark by which to measure their cultural success and well-being going forward."