UPDATE: Based on an IRS letter released August 2018, there is now additional plan design flexibility available for employers seeking to offer offer Student Loan Repayment in coordination with a retirement plan. Click Get Started below to discuss your Student Loan Mirroring plan design goals and options with a member of the Peanut Butter Client Solutions team.
—
Student debt is causing quite a bit of financial stress for employees today, but research from Aon Hewitt suggests the pain of student debt will likely be felt all the way into retirement. According to their research, workers with student loans are participating in employer-provided retirement plans at a lower rate than those without loans, and employees with loans are far more pessimistic about their financial future than those without loans.
We have a student loan repayment plan design option that can address the pain of student loans while also helping employees plan for the future.
A Peanut Butter Mirroring Plan allows employers to recognize employee student debt repayment by making non-elective contributions to the employee's 401(k). This can help employers:
Promote the long-term financial wellbeing of their team members,
Increase participation in their retirement plan and
Minimize their tax burden.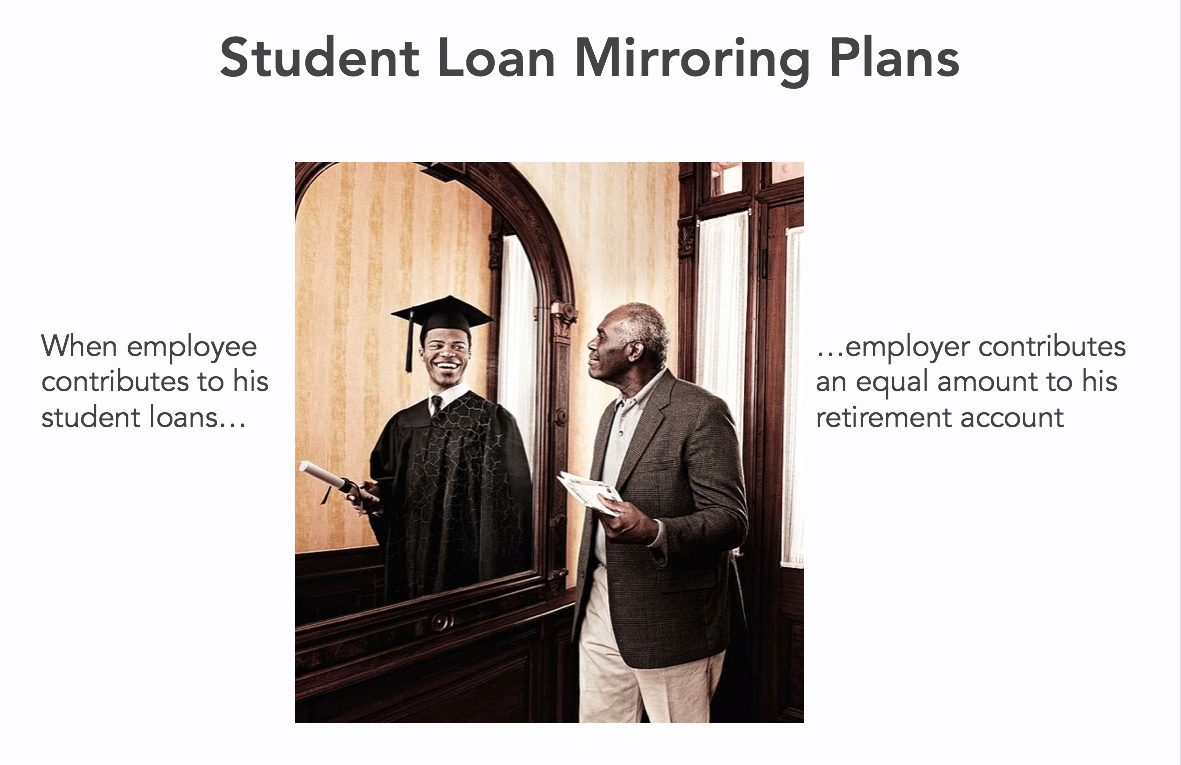 Here's how Student Loan Repayment works with a Mirroring Plan:
The employee elects to have a defined amount of money deducted from their paycheck each month and applied directly to their student loan account. When an employee does this, the employer makes an equivalent contribution into the retirement account.
Peanut Butter handles loan verification and remits the loan contribution directly to the loan servicer, so the employer knows the employee is holding up his/her end of the bargain.
While there are real advantages to this type of program, it does have its drawbacks when compared to a Direct Contribution Plan, specifically:
It must be offered to all employees eligible for the retirement plan, and
A 401(k) plan amendment is required
Here's a side-by-side comparison of a Direct Plan verses a Mirroring Plan: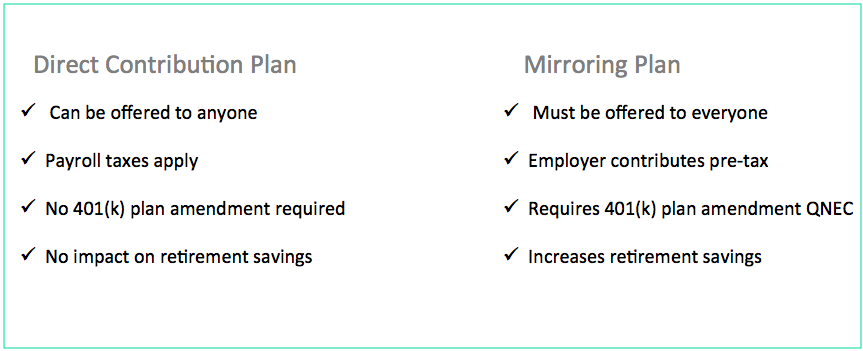 If you are considering Student Loan Repayment as part of your Student Loan Assistance program, a mirroring plan may help accomplish your business and talent goals. The Peanut Butter Client Solutions team is ready to help you evaluate your options and design a program that addresses your company's interests.