San Jose, CA (September 21, 2016). Today, from the Innovate! & Celebrate Conference where Peanut Butter is a semi-finalist for Tech.co's Startup of the Year competition, I'm pleased to announce our partnership with Credible, which expands the student loan assistance services that Peanut Butter provides to employers in order to attract, retain, and engage college-educated talent.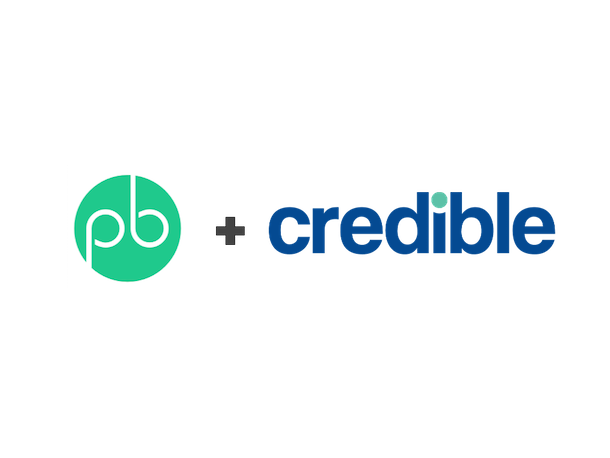 Credible operates the leading marketplace for student loan refinancing, offering borrowers a no-fee, risk-free and secure comparison of the rates and terms available from multiple lenders.
Employers offering student loan repayment can expect to see shorter hiring timelines, longer employee tenure, stronger engagement and improved diversity (see
Millennial Benefit Preferences study
), but some employers seek to go further, recognizing that certain employees could reduce their overall student debt cost by refinancing their loans.
We chose to partner with Credible for two key reasons:
1. Broad coverage
2. Simple experience
Broad coverage
Most companies employ college-educated workers whose salaries vary drastically across the talent pool. Because of varying income levels, it doesn't make sense for an employer to offer refinancing from only one lender with one underwriting model.
By including Credible in our suite of student loan assistance services, we are able to help employers cover varying levels of employee income and credit, so whether you have high income and great credit or entry level income and no credit history, your employer's student loan assistance program can help you assess your refinancing options.
Those refinancing options are just as important for the terms refi loans as they are for the rates. Today's federal loans include valuable protections such as access to income-driven repayment programs and the potential to qualify for loan forgiveness that are not available on private loans. But the Credible marketplace helps borrowers identify loans with other protections similar to those provided by government loans, such as deferment or forbearance.
As our clients seek to attract, retain and engage Millennial talent, we recognize that there is a premium on employee time. I've been incredibly impressed with Credible's technology, which allows borrowers to get prequalified from up to seven different lenders in under two minutes, without having their credit score run.
And when a phone call is easier, Credible offers a unique toll-free number to support Peanut Butter's client employees.
In 2010, not long after completing my MBA at Kellogg, I chose to refinance my b-school student loans. Today, students are graduating with federal loans that range from 3.4 percent to 7.9 percent and with private loans ranging from six percent to 12 percent. By partnering with Credible, we will provide employers with another tool for helping their employees reduce college debt.
Read the full press release
here
.
To consider your options for student loan refinancing, check out the below link: