Student Loan Assistance Programs continue to play an important role in employee benefits because of the $1.5T in student debt held by over 45 million Americans — nearly 30 percent of the workforce1. As we continue to see dramatic increases in the number of employers offering Student Loan Assistance, we're often asked by prospective clients what we see as the most common programs offered. This article covers the three most popular Student Loan Assistance Programs and the advantages of each.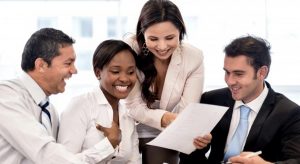 Most popular program: Student Loan Resources + $50 monthly employer contribution
By far, the most popular Student Loan Assistance Program clients offer to their employees is a combination of Student Loan Resources and Student Loan Repayment. Student Loan Resources provide employees with tools to help them tackle their student debt themselves, and Student Loan Repayment provides financial assistance with employer-sponsored student loan contributions. This combined program continues to be the most popular because:
Student Loan Repayment helps improve hiring and retention of college-educated talent. 67 percent of candidates are 'absolutely' more willing to accept a job offer from a company offering Student Loan Repayment2.
$50 per participant per month is a pretty modest amount for most companies to budget, but it's a meaningful amount to the average person with student debt. New U.S. graduates entering the workforce hold about $37,000 in student loan debt. An extra $50 per month in employer contributions will help her/him get out of debt in eight years instead of 10, saving more than $7,000 in principal and interest over the life of their loan3.
Employers compete for talent on whether they offer Student Loan Repayment as a benefit, not how much they offer, so $50 per month is enough to differentiate a company from other employers.
Student Loan Resources educates employees on ways they can take greater control of their student loan debt, including curated advice to help them pay down debt faster, access to a refinancing marketplace and more.
Second most popular program: Student Loan Resources
Student Loan Resources is ideal for employers who want to give employees the tools to tackle their debt, but aren't ready to provide employer-sponsored loan contributions just yet. It gives the company an option to enhance employee engagement and retain valued talent, but with a smaller budget. Reasons Student Loan Resources rises to the top:
It allows the employer to provide employees with curated advice and insights, refinancing tools and debt counseling options from an unbiased vendor who doesn't profit off of employees' decisions.
It's the most affordable option for Student Loan Assistance and even allows companies to provide resources for part-time and hourly employees to manage their student debt.
Third most popular program: Student Loan Resources + $100 monthly employer contribution
This combined Student Loan Assistance Program has the upside of our most popular program with a greater monthly employer contribution ideal for companies with:
An average employee salary over $100k. The larger monthly employer contribution feels more substantial to the person that's receiving it when they're in a higher salary range.
A greater number of employees with advanced degrees. The larger monthly employer contribution coincides with a greater level of debt incurred to obtain the higher level of degree needed for that career field, and ensures the benefit feels significant. An extra $100 per month in employer-sponsored Student Loan Repayment will help an employee get out of debt in seven years instead of 10, saving more than $11,000 in principal and interest over the life of their loan3.
More fierce competition in their industry. For example, if a direct competitor, a company within your industry or one within your geography, offers Student Loan Repayment with a high contribution amount, a larger Student Loan Repayment monthly employer contribution ensures your organization can compete for talent effectively.
Regardless of which Student Loan Assistance Program you may be considering, it's important to remember that keeping eligibility and qualification criteria simple will yield the greatest employee engagement and return on your company's investment. In our experience, programs that are simple and well communicated will see participation from nearly 50-80 percent of the eligible employees that hold student debt. The most popular Student Loan Assistance programs take into account the 'Tips for Launching a Student-Loan Repayment Benefit' that were covered by SHRM.
If your organization is ready to offer Student Loan Assistance, but you're not sure how to determine the most effective plan, schedule time with a member of Peanut Butter's Client Success team to discuss your needs. We've implemented hundreds of programs with clients across every industry vertical and can help you evaluate the best solution to achieve your organization's goals.
References:
1. https://www.bls.gov/news.release/empsit.t01.htm
2. Beyond The Career Network
3. Assumes $34,000 loan at 6% interest, amortized over 10 years.